On June 15th, the third China (Qinghai) International Ecological Expo was grandly opened in Xining, Qinghai. As a sub-exhibition of the Ecological Expo, the 2023 Qinghai Tibetan Carpet International Exhibition was also held at the same time in Hall B of the Qinghai International Convention and Exhibition Center. So far, Qinghai Tibetan Carpet Exhibition has gone through 20 years.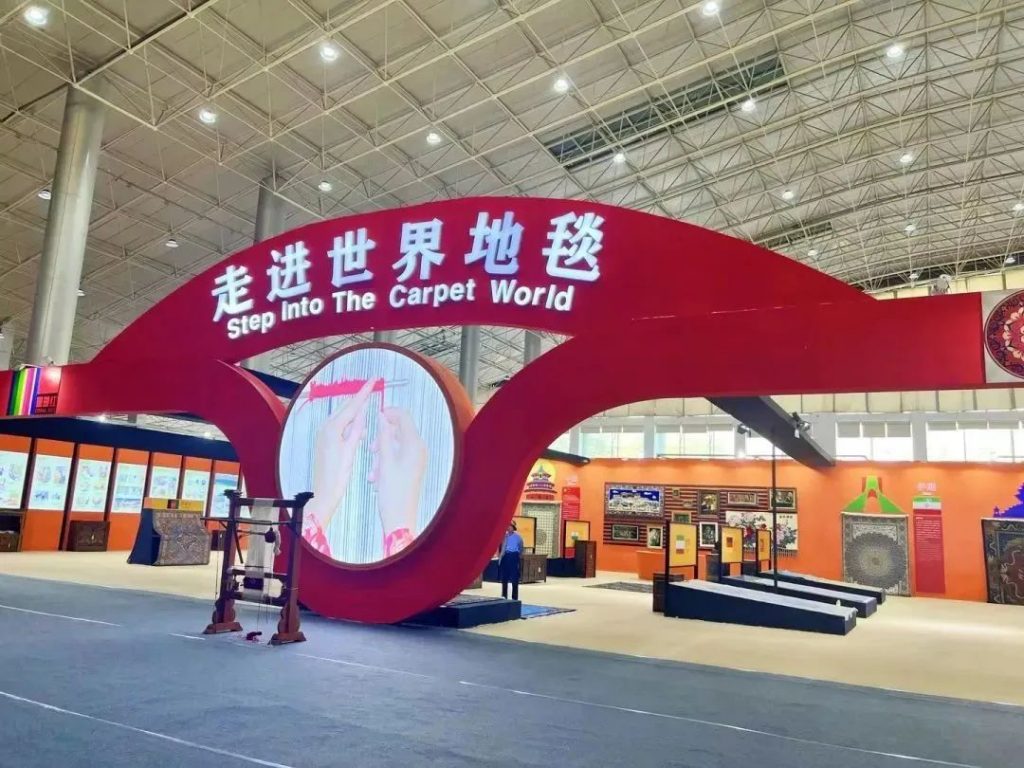 As the only professional carpet exhibition in the world that gathers the seven major handmade carpet-producing countries in the world, this exhibition invited many excellent exhibitors from Iran, Turkey, India, Pakistan, Nepal, Afghanistan, Uzbekistan, and Germany to participate. Yilong was invited again as a representative enterprise of the handmade silk carpet industry and settled in Hall B of the exhibition center.
Chen Gang, secretary of the Qinghai Provincial Party Committee and director of the Standing Committee of the Provincial People's Congress, Wu Xiaojun, deputy secretary of the Qinghai Provincial Party Committee and governor, Zhao Gang, deputy secretary of the Shaanxi Provincial Party Committee and governor, Gongbao Tashi, chairman of the Qinghai Provincial Political Consultative Conference, and the Provincial Department of Commerce and other leaders visited Tibet Visit and guide the carpet exhibition site.
Mr. Leevery Han, the general manager of Yilong Carpet, has been interviewed by several media such as Qinghai Satellite TV and Qinghai Daily. When talking about his expectations for the future of the Yilong Carpet Exhibition, he expressed the hope that the Tibetan Carpet Exhibition can be held continuously and forever, and become the world's handicrafts It is a grand exchange event for carpets, and at the same time, I would like to thank the Qinghai Provincial Government for its strong support for the Tibetan Carpet Exhibition.
All the high-quality and explosive products are on display, full of aura
As an old friend of the Tibetan Carpet Exhibition, Yilong Handmade Carpet participated in the exhibition in 2016 and participated in the exhibition for the first time in 2017, and has never been absent every year since then. At this exhibition, Yilong handmade carpets made a stunning appearance with a medium-sized booth of 64m² and concentrated on displaying a series of collection-level high-quality handmade silk carpets and tapestries.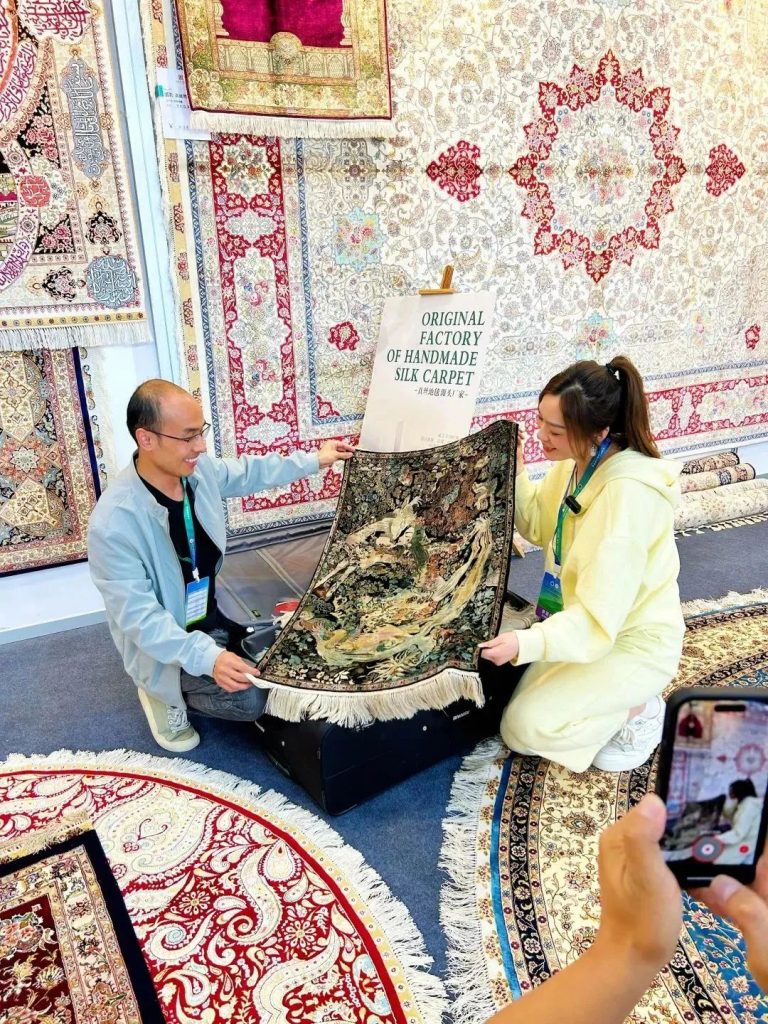 Although these rare tapestries are small in size, the number of them is between 500 and 1000. They are of good quality, high density, and difficult craftsmanship, which are very rare in the current market. If we can't find a weaver to weave, it can be said that all the strips are out-of-print works of art.
In addition to these high-quality tapestries, the Persian-style handmade silk carpets, the main products of Yilong, will certainly not be absent. This time, Yilong brought many popular handmade silk carpets that have been sold well in Europe and America in recent years to the exhibition. As soon as these huge handmade silk carpets were unveiled, every visitor who passed the booth of Yilong was full of surprises and praises.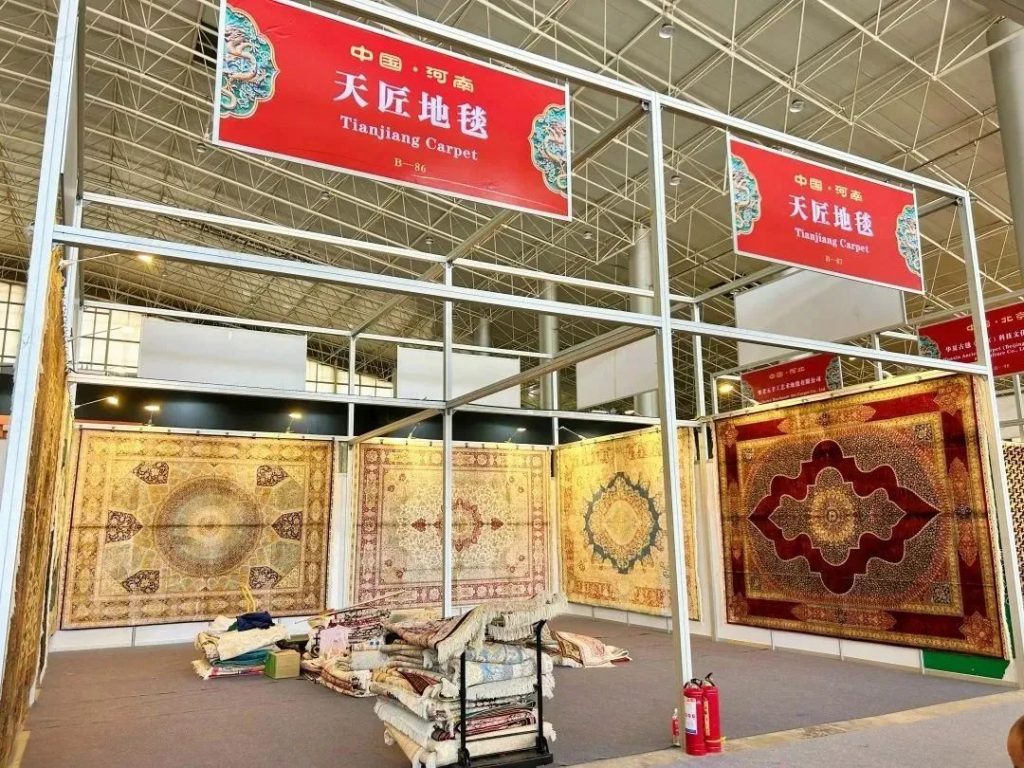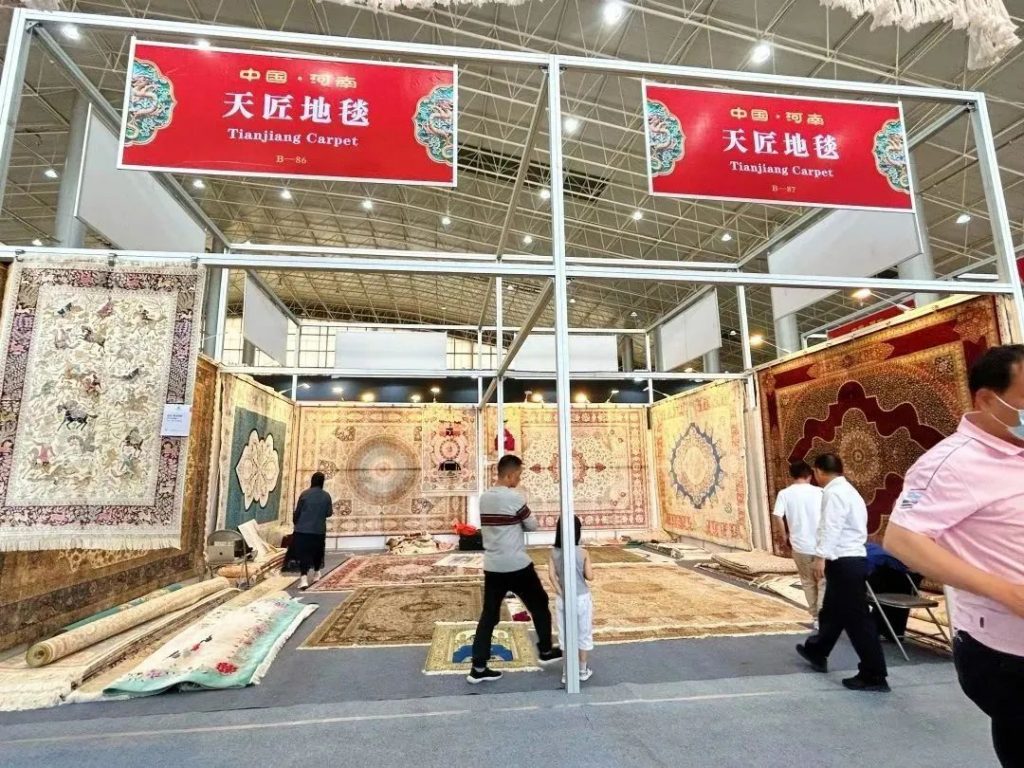 In addition, there are also some handmade silk carpets with Chinese style, tribal style, and Turkish styles on display. As soon as these fine silk carpets were opened, they ushered in the strong interest of domestic and foreign merchants. And several merchants from Turkey and Afghanistan extended their thumbs up to praise the Chinese silk carpet.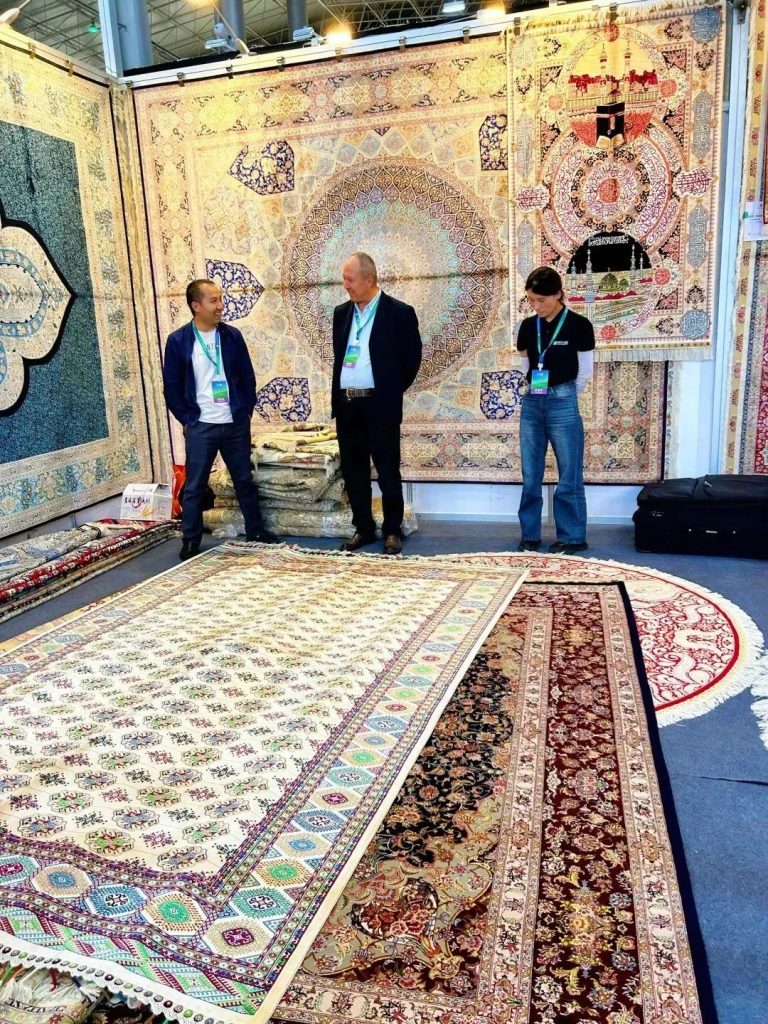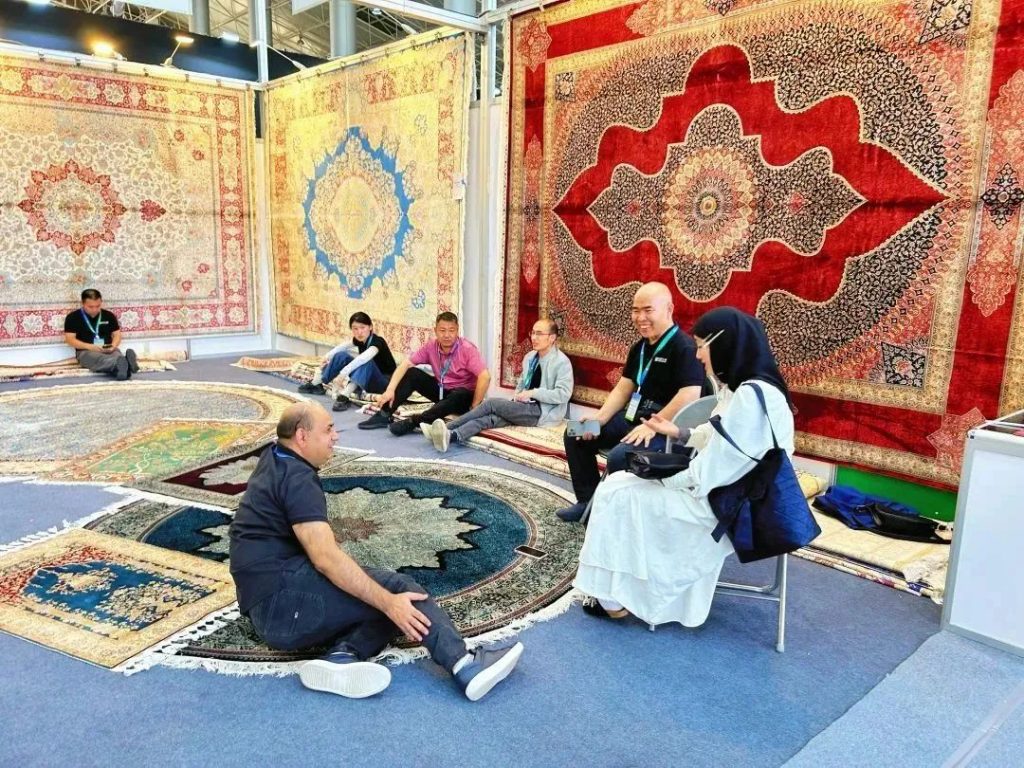 On the exhibition, Yilong booth was very popular.
There are many people from political and business leaders, association leaders, and media reporters from all walks of life, and the scene is very popular.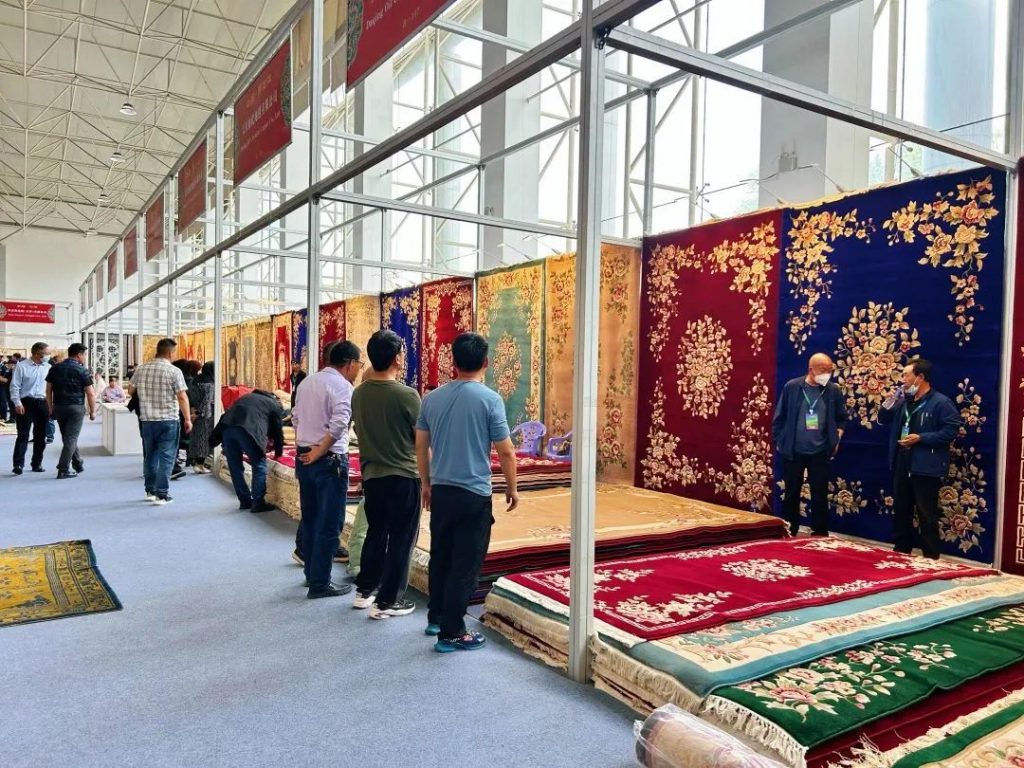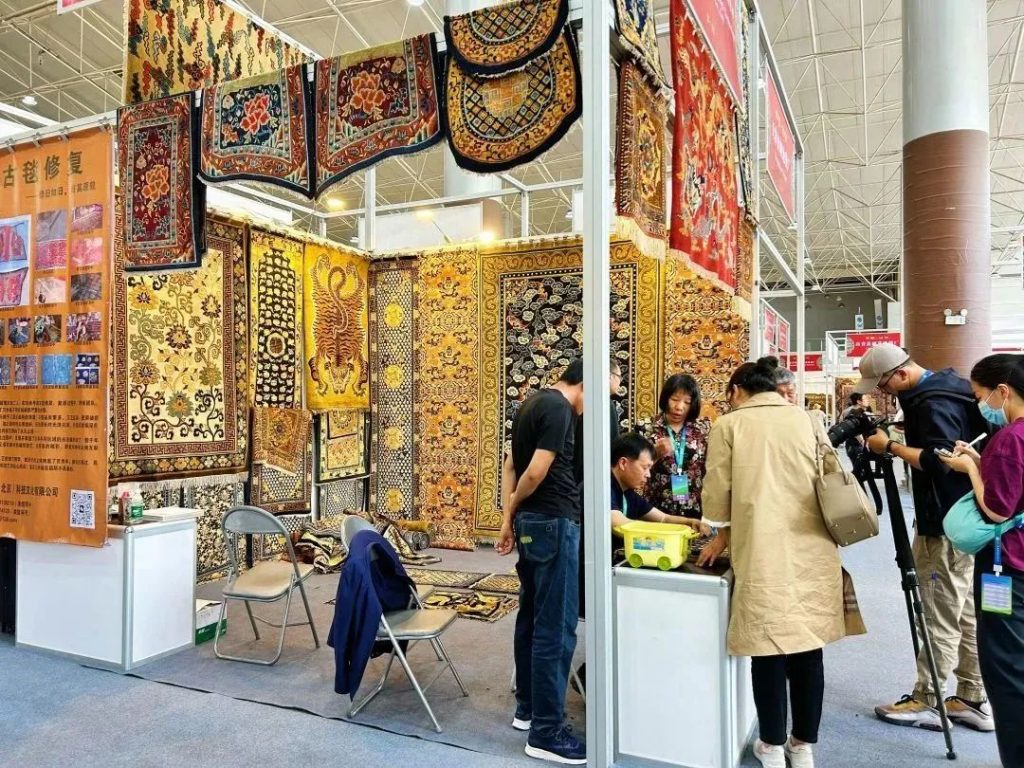 Visitors from all over the country, as well as foreign businessmen from Iran, Nepal, India, Pakistan, Afghanistan, etc., continued to gather in front of the Yilong booth. They watched all kinds of exquisite silk carpets of different styles, interacted with and consulted from time to time, and the atmosphere of negotiation was very intense.
What surprised us even more was that when communicating with these visitors from home and abroad, they all knew about the Yilong brand without exception, and some even waved their hands and said "I Know Yilong, I have been following you for a long time, and your carpets are very, very beautiful."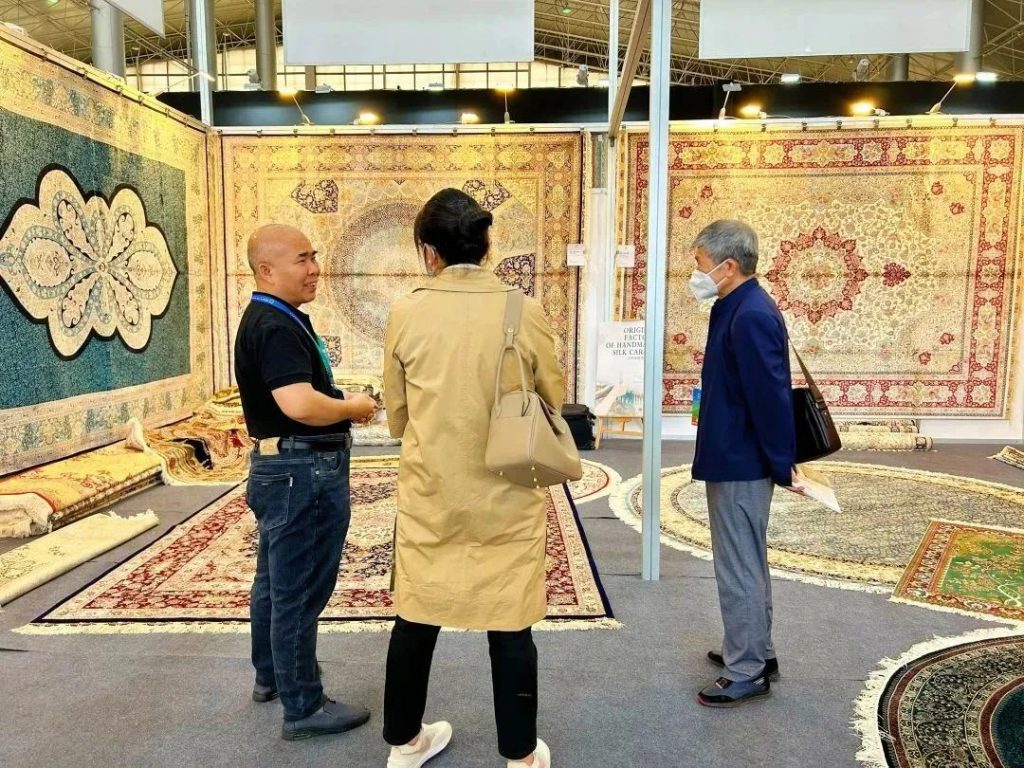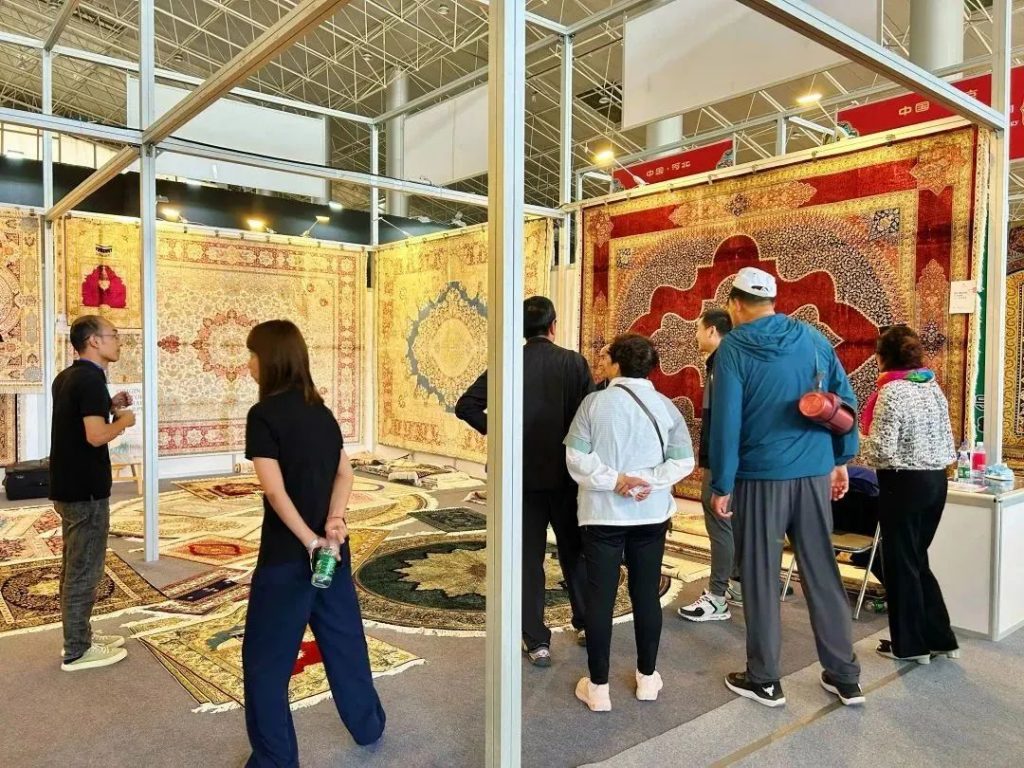 Although the exhibitors are all the best carpet brands from various countries, Yilong Carpet is still unique in the entire exhibition hall. Because exhibitors such as Iran, Turkey, and Afghanistan mainly display handmade woolen carpets, while Yilong products are relatively rare handmade silk carpets, which are unique in terms of pattern precision and carpet texture. Therefore, it stands out from the crowd of carpet booths and attracts the attention of visitors.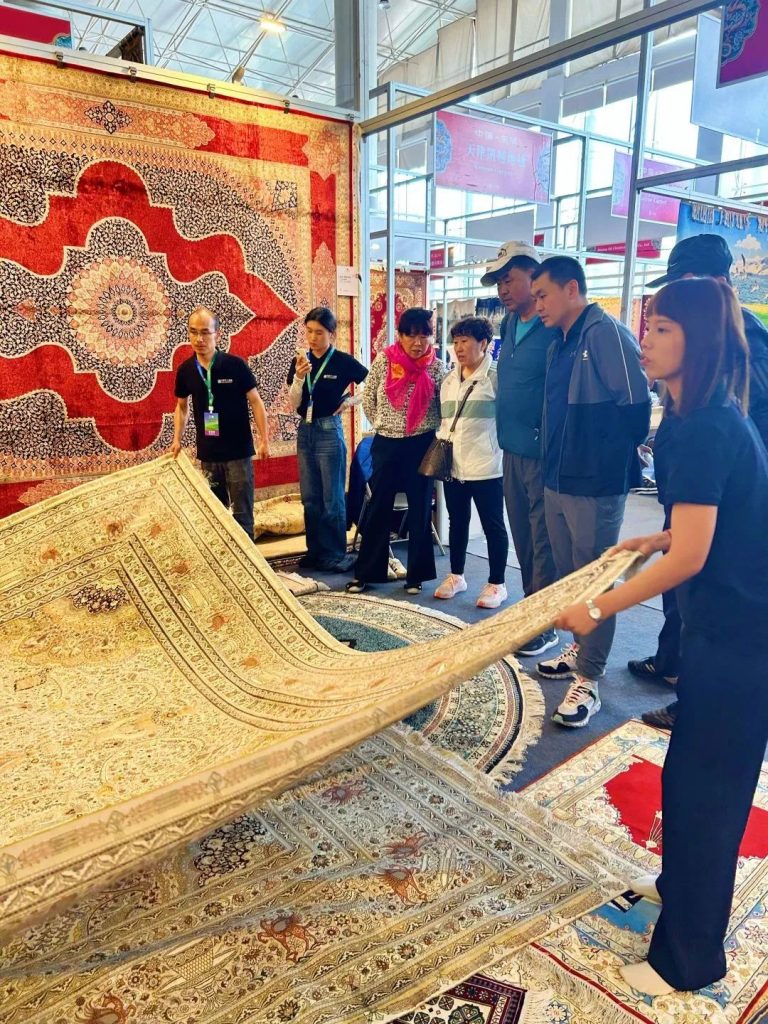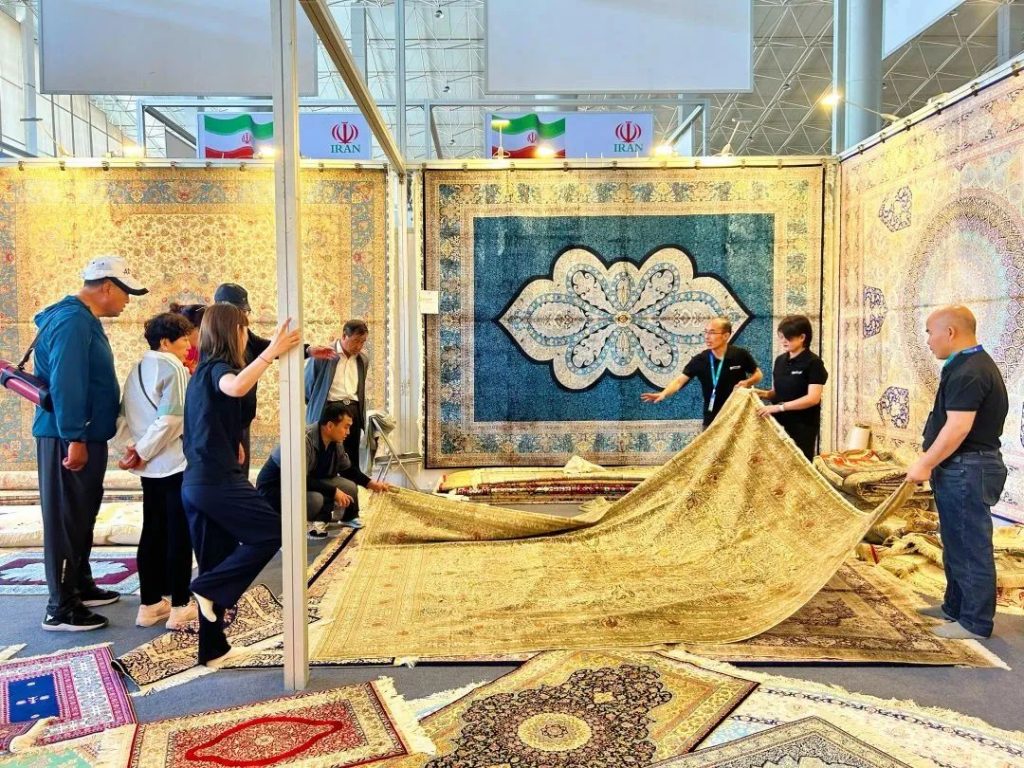 On-site exhibitors gathered unprecedented grand occasion
Since 2004, the Tibetan carpet exhibition has gone through 20 years. It is understood that this exhibition invited Shandong, Henan, Hebei, Tianjin, Ningxia, Gansu, Jiangsu, and other 8 provinces and municipalities to participate in the exhibition, attracting people from Iran, Pakistan, 67 merchants from 10 countries including India, Nepal, Afghanistan, Turkey, and Kazakhstan participated in the exhibition. The exhibits cover Tibetan carpets, silk carpets, machine-woven carpets, Persian carpets, Persian tapestries, Gaback carpets, Chubby carpets, oriental carpets, and more than 30 varieties.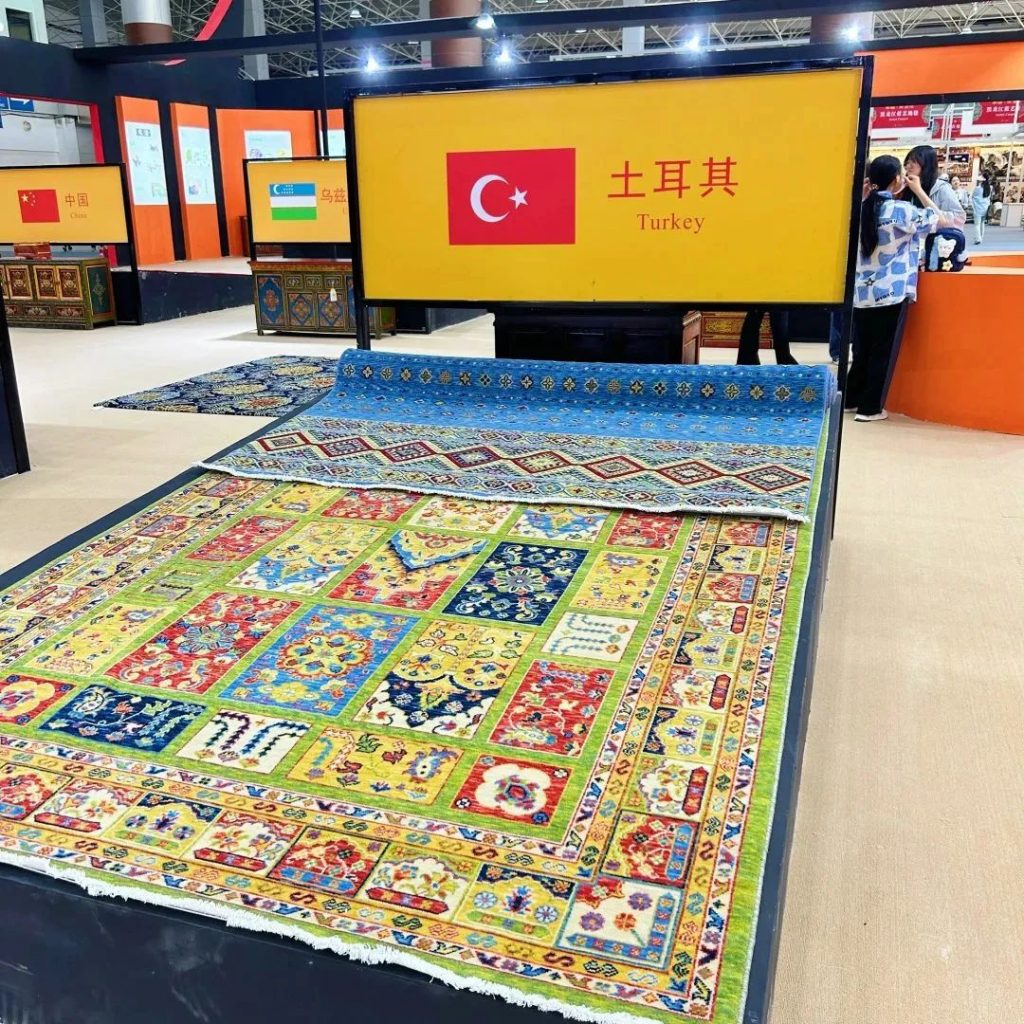 As an internationally renowned handmade carpet brand, Yilong never gives up every opportunity to promote and publicize Chinese handmade silk carpets to the world. This exhibition broke the previous record and brought nearly 500 square meters of handmade silk carpet. Through the blessing of the Tibetan Carpet Exhibition, more and more people will understand the Chinese handmade silk carpet and the cultural origin behind it and also hope more and more carpet dealers to contact us for cooperation.